Science Shops can be an effective model for developing mutually beneficial relationships between academia and society. By working together to find solutions to societal issues, students/researchers get to work on real-life problems and civil society organisations get access to research expertise and new knowledge. Science Shops can be found in many countries but are not well known in Sweden. VA (Public & Science), SciShops' Swedish partner, ran a workshop on Science Shops at the HSS University and Society in Collaboration conference held on 8-10 May in Örebro, Sweden.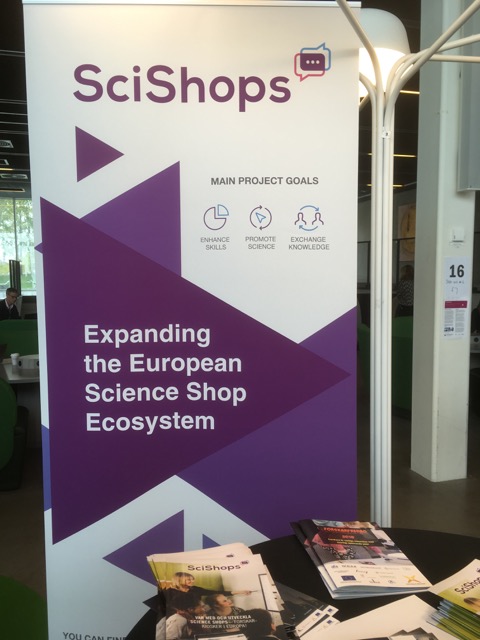 HSS is a biennial conference that brings together people working in academic institutions, industry, the public sector and civil society across Sweden to share experiences and practices for supporting collaboration between academia and society. Although, the main focus of HSS tends to be on partnerships with industry, VA was keen to highlight a model that primarily involves societal actors that often don't have the resources to undertake research, namely, civil society and citizens.
VA is a partner in the EU-funded project SciShops and had the opportunity to have a SciShops stand as well as run a workshop at HSS together with Malmö University.
Project Manager for SciShops at VA, Helen Garrison, gave an international overview of the concept, highlighting examples of different models of Science Shops and resources and support offered by EU SciShops project. Fredrik Björk and Jens Sjölander from Malmö University shared their experiences from piloting a Malmö Pop-Up Science Shop and connecting local civil society organisations with researchers to develop concrete research projects. They particularly stressed the value of working with umbrella organisations to reach a broad range of community stakeholders; the need to look at what research already exists; and the complexity of translating problems faced by local communities into concrete research problems.
"There is an increasing emphasis in university policy on demonstrating the impact of research, ensuring it plays a transformative role in society and fulfilling the 'third mission' of universities to engage with society. Science Shops are a proven, well-established model for supporting science-society collaboration through knowledge creation and can help universities develop closer relationships with their local communities," said Helen Garrison.
The EU SciShops project, which runs until February 2020, is currently testing new models for Science Shops and setting up ten new Science Shops in a number of European countries. A wide range of experience and advice exists within the established Science Shops community to support those setting up new Science Shops. This includes resources and training developed by the SciShops project as well as the international Living Knowledge network for Science Shops, which provides access to resources, expertise and mentoring.
VA is keen to support Swedish actors interested in developing Science Shops within their own organisations. A workshop for those interested in learning more about Science Shops is to be held in Stockholm in October 2019 (please contact Helen Garrison helen@v-a.se if you are interested in receiving details).