Budapest was the location of the 8th Living Knowledge conference that took place at the end of May 2018. The conference provided SciShops partners with an opportunity to present some of the project's work so far and gain inspiration from others in the Living Knowledge network.
The conference gathered 260 delegates from 33 countries for three days of informative workshops, discussions and sharing of experiences around the theme of Enriching Science and Community Engagement. Delegates represented a broad spectrum of knowledge, including science shops, community-based participatory research, participatory action research, public engagement and citizen science.
SciShops' Project Coordinator, Carmen Munteanu from SYNYO, contributed to a panel discussion exploring the future place and role of science shops in the civil society – research – education – business – policy interaction. Panelists included Norbert Steinhaus from Bonn Science Shop and Coordinator of the Living Knowledge Network; Dr Henk Mulder, from the University of Groningen; and Anne-Sophie Gresle from SciShops' sister project, InSPIRES.
Four other SciShops partners also ran a session in which they presented some of SciShops' findings, including science shop case studies; the results of its world-wide online survey on awareness and experience of community-based participatory research; a literature study; and impact analysis. Many delegates expressed interest in the new science shops that SciShops will be setting up, particularly those based at non-university organisations, such as SMEs and private research institutes, and there were a number of interesting discussions about the future direction of science shops. Impact evaluation and how to measure the impact of science shops' work was also a topic that stimulated discussion.
"The Living Knowledge conference was a great opportunity to meet and learn from others in the science shop community from right across the world as well as to introduce SciShops to a broader audience," said Project Coordinator, Carmen Munteanu. "We all left feeling inspired and motivated, and discussions will certainly inform the next stages of the project as we start developing new types of science shops," she added.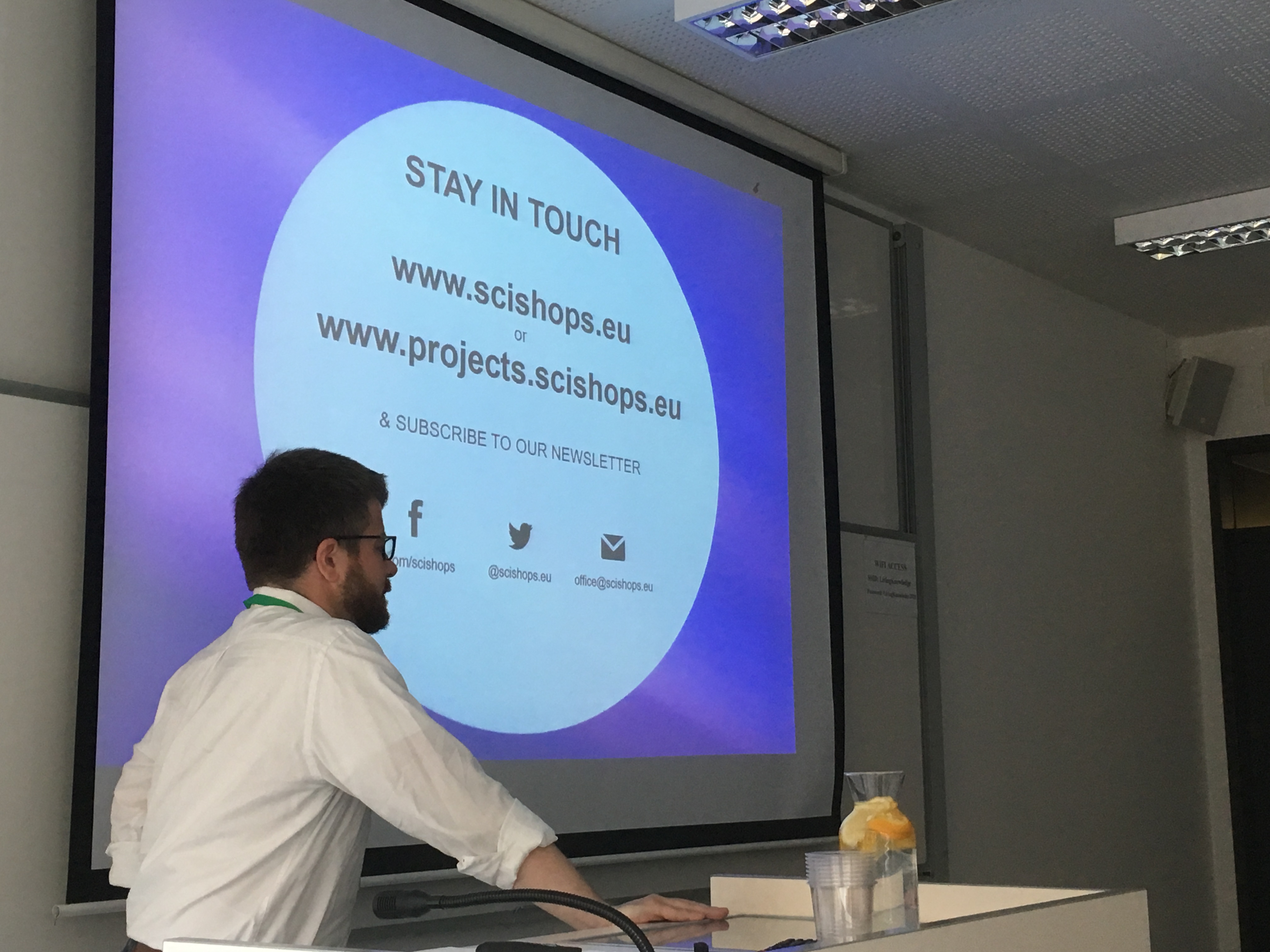 Colleagues from four of SciShop's partners – SYNYO, the Institute of Social Innovations, Carlos III University of Madrid and the University of Oxford, also joined the summer school held on the two days prior to the conference. This was an opportunity to participate in a crash course on how to set up and run a science shop led by key experts in the field. Participants also presented posters during the main conference.
As the three days were drawing to an end, it was also announced that the next Living Knowledge conference would be returning to the birthplace of the science shop movement, the Netherlands, and be held at the University of Groningen in June 2020.