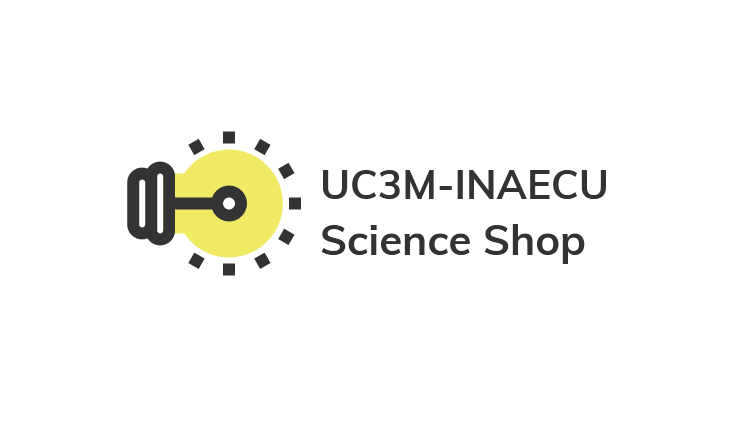 UC3M-INAECU Science Shop, Spain
UC3M-INAECU is a university-based science shop at the University Carlos III of Madrid (Uc3m). It is promoted by the LEMI research group and INAECU. The focus of the Science Shop is sustainability issues. The Science Shop brings together researchers, students, teachers from high schools, municipalities (from Madrid, Getafe and Leganés), societal organisations (NGOs), small and medium enterprises (SME) and citizens in order to identify societal needs/problems, transform them into research questions, and subsequently co-create knowledge in order to solve and implement solutions to the problems.
In addition, UC3M-INAECU Science Shop has initiated an Iberian Peninsula network of Science Shops, involving Science Shops in Spain and Portugal.
Business model
INAECU-UC3M Science Shop is run by the INAECU multidisciplinary research group. In terms of coordination, the staff is divided into these different roles:
1) Coordinator of the Science Shop, who supervises all the activity of the Science Shop, managing the coordination, administration and running of the Science Shop.
2) Internal Committee. This committee has a supervisory role and will be responsible for the performance of the Science Shop i.e. the collection and selection of the research questions, building relationships between the stakeholders, as well as organising and disseminating the activities.
3) Advisory Board. In addition to the Internal Committee, an external Advisory Board will be created in order to advise on the feasibility of the research questions and best research methodologies to use to answer the questions. It will consist of experts from different expertise areas. In addition, this group will evaluate the research progress.
Research is conducted by researchers from different fields and topics and research teams also include students.
Regarding the continuity of the project once the European SciShops project comes to an end, the science shop UC3M-INAECU will be funded by the Carlos III University of Madrid and the City Hall of Getafe.
Activity to date
A lot of effort to date has been meeting with societal stakeholders in order to identify and define potential research questions. UC3M-INAECU Science Shop has a strong focus on multi-stakeholder engagement, ensuring that projects are co-developed together with affected stakeholders.
Meetings have been held with different groups of stakeholders, including city councils in Getafe, Leganés, and Madrid; researchers from the university, and representatives of associations to serve as a preparatory stage for the definition of the topics to be addressed and further activities (focus-groups, co-creation events, and knowledge cafés).
As a result of these meetings, Social Sciences researchers are now pursuing projects with Madrid City Council and researchers of Engineering with Getafe City Council. For example:
In May 2019, UC3M-INAECU Science Shop organised a focus group in Getafe with members of the city council, neighbourhood associations and researchers to brainstorm ideas relating to mobility and urbanism and identify possible lines of action. Subsequently a Knowledge Café on urban transport mobility and pollution was organised in September 2019 together with the municipality of Getafe.
In May 2019, a co-creation event was organised to co-design and discuss collaborative solutions relating to the reuse of lots for social use in Madrid. The event brought together Madrid city council and neighbourhood associations together with researchers and has resulted in further collaboration and activities.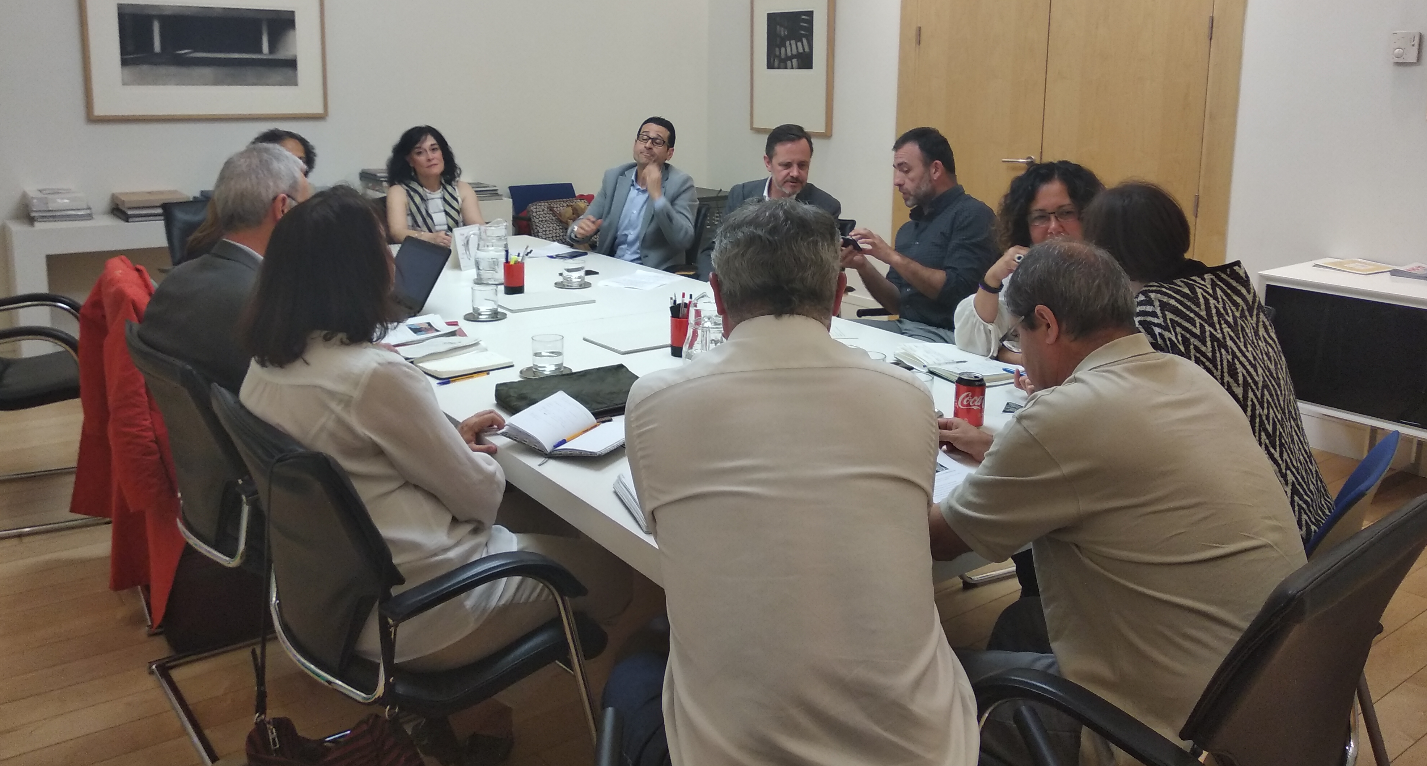 Meetings have also been held with the Sustainability Commission of the University Carlos III (Madrid) to identify activities that the university is doing regarding sustainability, to identify existing links between the university and other groups (e.g. city councils), and to establish synergies between the different stakeholders. Members of the Sustainability Commission are now fully involved in the activities of the Science Shop and attend all the meetings and events that take place.
UC3M-INAECU Science Shop has also been undertaking numerous dissemination activities, to raise awareness about the Science Shop, its methodology and the SciShops project. This has included conferences, events and workshops as well as communications work e.g. media relations, the UC3M Newsletter, INAECU blog and social media channels.
Events run by UC3M-INAECU Science Shop to date include:
24 April 2019: Lecture to 100 primary school students on 'The Water Challenge: citizen science for a sustainable world'

5 April 2019: Workshop for university students on 'Citizen Science to Build Sustainable Cities'
22 February 2019: Seminar for academics, researchers, students and associations on 'Social impact of research. How science could reach the citizen?'

12 February 2019: Workshop for university students on 'The challenge of sustainability in universities: lines of action of UC3M'

3 October 2018: Seminar for academics, researchers and students on 'Towards the sustainability of Spanish universities'

19 September 2018: Lecture to primary and secondary school teachers on 'Citizen science in the school environment'

28 September 2019: Exhibition stand to promote Science Shop activities at Researchers' Night in Madrid
Seminar for academics and researchers interested in RRI on 'Participatory research in the European Union: some experiences'
In addition, UC3M-INAECU Science Shop has met with representatives of other Science Shops in Spain and Portugal and as a result an Iberian Network of Science Shops was set up in May 2019.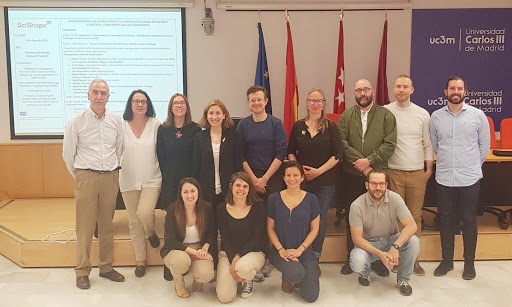 Next steps
In order to progress the research projects that are currently underway, a number of other co-creation events in Madrid, Getafe and Leganés are planned.
Participation in the following events/activities:
– Congreso Comunicación Social de la Ciencia, in Burgos, Spain on 9-11 October
– Second Meeting of Iberian Network of Science Shops / Citizen Science in Lisbon, Portugal on 23 October
– Twinning exchange with the University of Leiden (pending approval)
Contact
Web: http://www.inaecu.com/science-shop/
E-mail: inaecu.uc3m@gmail.com
Twitter: @ss_uc3m_inaecu